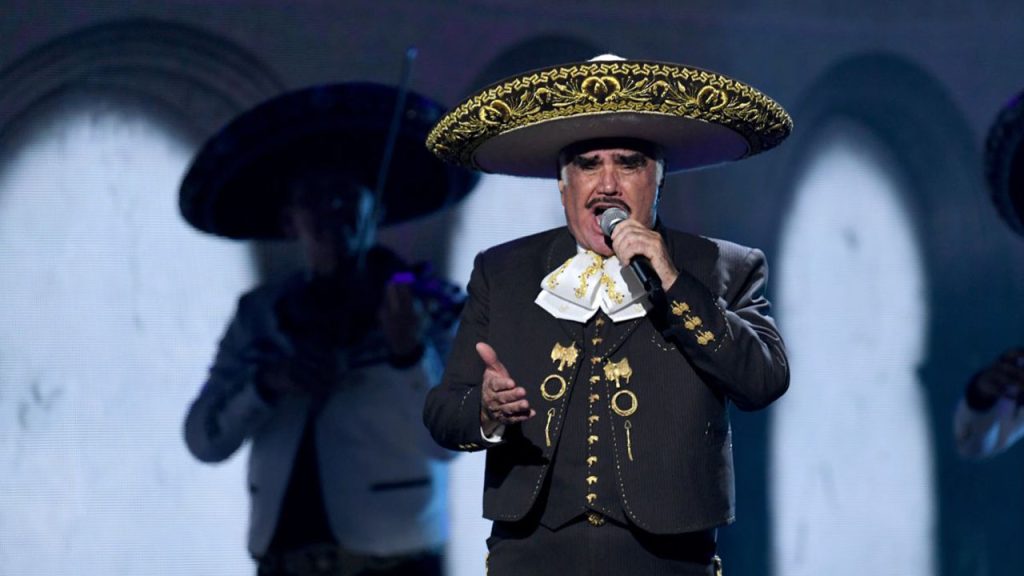 Vicente Fernández / Photo: _vecentefdez/Instragram
Early August was known Mexican singer Vicente Fernández was taken to Hospital Country 2000 in Guadalajara due to fallout at his home, and so his fans were concerned about the singer's health.
Mr. Fernández gave hope to his loyal followers through social networks, encouraging them not to worry and giving credit to the press.
"To all the public I want to tell all, stop worrying, it was only a urinary infection, and I am fine now," Vicente said. "Thanks to all my friends in the press, who have always treated me very well, God bless them."
But 128 days later and to get precisely, in the midst of the Virgin Mary celebration, that hope came to an end as family members of 'El Charro de Huentitán' announced his death at 6:15 a.m. Sunday morning.
The interpreter of 'El Rey' song, a melody that immortalized him, worsened a few weeks later due to an injury by the skull that ran throughout the spinal cord, leaving him without movement of his arms and legs.
That's why Vicente had to undergo an urgent surgery, but unfortunately, it caused respiratory deterioration leading him to artificial respiration, and ending in intensive therapy.
Apparently, the interpreter of 'El Abandonado' is being paid tribute in the VFG arena located within his own ranch 'Los Tres Potrillos' hosting more than 15 thousand people.
Once inside the building, Alejandro Fernández sang to his father, but María del Refugio Abarca Villaseñor, better known as 'Cuquita', and now widow of 'The Mexican Idol', sent her blessings to all Vicente followers.
"To all the people who are here, to everyone watching us, who asked, sent blessings, had masses said, prayed, to everyone, all those people, I send you blessing with all my heart," said Doña Cuquita. "I thank you and may God take care of you all."
María del Refugio Abarca Villaseñor, better known as 'Cuquita' and Alejandro Fernandez singing to her father in the VFG arena inside the Los Tres Potrillos ranch. / Photo:  by captured
Close relatives of the singer announced a prayer mass set for Monday. Then, the body will be taken to the crematorium and placed it inside a crypt at the bottom of a mausoleum built inside 'Los Tres Potrillos ranch.
Vicente Fernández was born on February 17, 1940, in Huentitán el Alto, Jalisco, near Guadalajara.
Coming from a humble home and the only male with two sisters, 'The Mexican Idol' had to work as a waiter, car washer, and milked cows at an early age.
Left: Paula Gómez de Fernández, Vicente's mother. Right: Ramón Fernández, Vicente's father. Boy: Vicente Fernández, Girl on the right: Vicente's sister. Baby on the left: Vicente's sister. / Photo: _vecentefdez / Instagram.
Well, at the age of 8 started playing the guitar. Meanwhile, he began to study folk music and little by little he made his way by singing in restaurants, public buses, family parties and sometimes accompanying local "mariachis" where he received tips, the same ones he needed to try to save his mother's life due to cancer but Paula Gómez de Fernández, died in 1963.
That same year, he married María del Refugio 'Doña Cuquita' who would have four children with the interpreter of 'Volver Volver'.
The 'ranchera' music icon recorded more than 300 songs on more than 120 albums, but he was not only a singer, 'El Charro de Huentitán' also participated in 33 films, thus giving way to more than 60 years of a successful career that transcended borders and languages ​​internationally, winning several awards such as Billboard and the Grammys.
Once the news was released; Artists, fans, and politicians lamented the departure of the 'Charro de México' through all the media, including Ramón's portal.
Vicente Fernández's remains will rest at his Los Tres Potrillos ranch. Photo: Univision Noticias
Last updated on December 14, 2021 by Ramón Warini