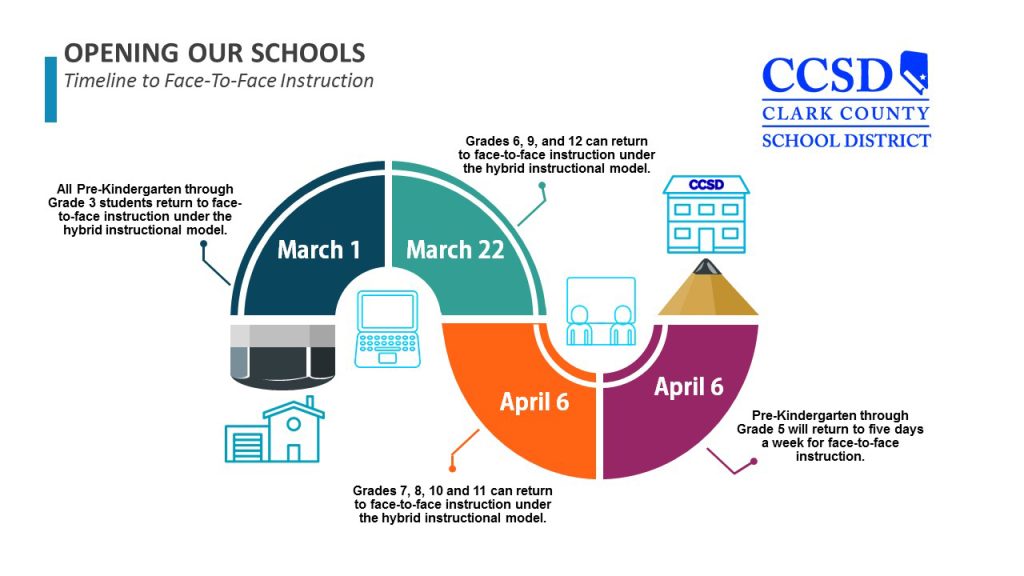 Clark County School District reopening timeline.
Credits: CCSD
After one year of the coronavirus pandemic, Clark County School District slowly reopens its remaining doors to educate more than 319,000 students from PreK through grade 12.
The reopening began on March 1, continuing until April 6, in a mix of face-to-face instruction and a hybrid model, as stated by the CCSD Superintendent Dr. Jesus F. Jara
"As I've stated for many months now, I want schools open. It's important for our students, staff, and our entire community," said Dr. Jara. "I have been very vocal about this with the staff, parents and the community, and in the media. This is why we have been working with our employee bargaining units for months."
The CCSD outlined a return timeline for parents to send kids back to school, so they don't miss a day of learning anymore.
On March 1, all PreK through grade 3 students set to return face-to-face instruction in addition to a hybrid instructional model.
By March 22, grades 6, 9, and 12 can perform face-to-face instruction under hybrid model.
Coming April 6, grades 7, 8, 10, and 11 will combine face-to-face and hybrid instructional protocols.
In addition to April 6, PreK through grade 5 will return to normal five days a week face-to-face instruction.
Also, the reopening comes with safety protocols financed by the American Rescue Plan Act of 2021, which gives $92.7 million to support the COVID-19 vaccination campaign in Nevada, as U.S. Sen. Catherine Cortez Masto, D-Nev., twitted.
NEW: $92.7 million from the American Rescue Plan is coming to Nevada to help us safely and quickly reopen our schools. This funding will support #COVID19 screening testing for teachers, staff and students, so we can continue to reopen safely for in-person instruction.

— Senator Cortez Masto (@SenCortezMasto) March 22, 2021
Last updated on December 18, 2022 by Ramón Warini