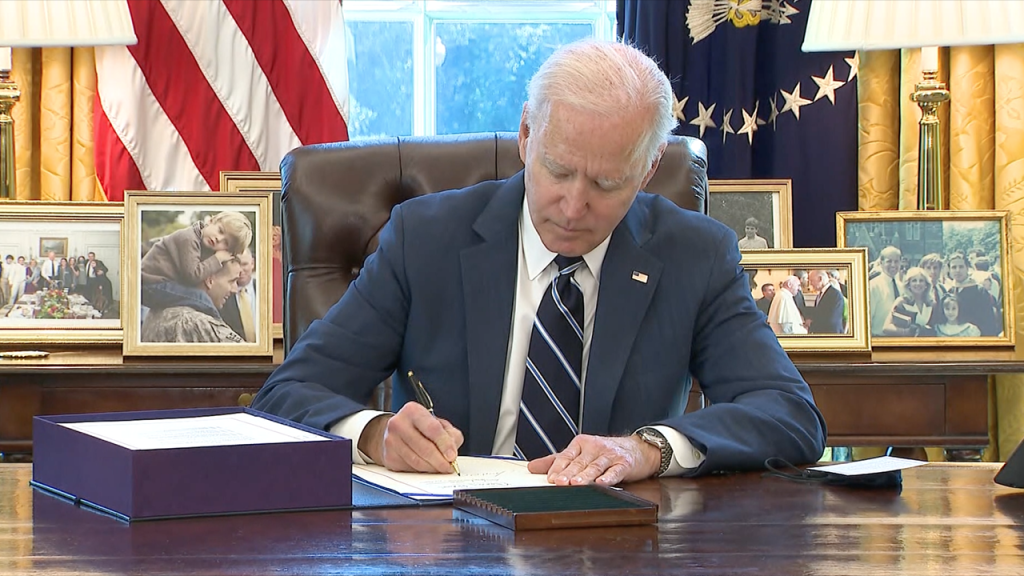 President Joe Biden signs the American Rescue Plan Act of 2021.
Photography: Screen capture on WH YouTube channel
President Biden signs the so waited ambitious American Rescue Plan Act of 2021 on his 50-day in office, reaching $1.9 Trillion relief for most citizens who are still struggling amid the coronavirus pandemic.
The Commander in Chief reiterated that the only way to defeat this virus in addition to the stimulus relief is to continue practicing social distance, washing hands, and wearing masks. He also emphasizes the importance of people getting vaccinated so we can lower the infection statistics.
"So my message to you is this: Listen to Dr. Fauci, one of the most distinguished and trusted voices in the world. He has assured us the vaccines are safe. They underwent rigorous scientific review," President Biden said. "I know they're safe. Vice President Harris and I know they're safe. That's why we got the vaccine publicly in front of cameras so — for the world to see, so you could see us do it. The First Lady and the Second Gentleman also got vaccinated."
The H.R. 1319 resolution provides additional relief to address the impact of the COVID-19 pandemic that has caused the largest economic turmoil since the Great Depression between 1929-1033.
According to the White House, the stimulus relief bill will boost the economy in the long run by providing aid to public health, state and local governments, individuals, and businesses.
Here's a brief description of what people can expect on President Biden's first victory:
The bill sends $1,400 direct payments to most Americans who phase out at $75,000 in income but if you make more than $80,000, you will get zero.
It also extends $300 per week unemployment benefits until Sept. 6. If the individual collected less than $10,200 unemployment benefits last year, then it becomes tax-free.
Those with children under 6 years old will receive a $3,600 credit per child, while those between 6 and 7 will receive $3,000 per child.
Undocumented immigrants will not receive any benefits from President Biden's relief bill unless they have U.S.born children who qualify under the above criteria.
A $25 billion towards rental and utility assistance including $10 billion for mortgage aid.
It offers $30 billion for restaurants, the most affected industry due to COVID-19.
The bill provides $20 billion into Covid-19 vaccine manufacturing and distribution. In addition to that, this legislation provides $50 billion for testing, and contact tracing.
The victorious plan offers $350 billion in relief to state, local and tribal governments in the nation.
President Biden's relief package provides more than $120 billion to K-12 schools.
A 15% increase in the Supplemental Nutrition Assistance Program through September.

The bill passed both chambers without single Republican support. In a very tight margin, the House reached 220-211 votes, giving the Democrats green light to push the bill forward. Nonetheless, Rep. Jared Golden, D-Main, aligned with the Republicans. In the Senate, the outcome reached 50-49 votes with no Republican support.
Per President Biden, Americans can expect their checks as early as this weekend as long as they have filed a bank account previously with the IRS – otherwise, it will take longer by regular mail.
Last updated on March 11, 2021 by Ramón Warini